This is what the perfect 24 hours in Pamplona during San Fermin look like!
If there is one question that gets asked repeatedly by our clients is this:
What are the best activities to do during San Fermin if we only have 24 hours?
So much so, that we've decided to give you the answer in a platter.
If you are short on time and all you can spend in Pamplona is 24 hours, these are the must-do activities you can't miss!
Dianas


A very early morning call to open the day's festivities.
The musical parade starts at the city's townhall at 6:45 am and travels through the old town's streets accompanied by locals singing, dancing and responding to the early morning disruption with a lot of humour and wit!

Encierro
Obviously, a must.
At eight o'clock sharp the bravest of the brave start running, the crowds, start cheering and the feeling of exhilaration and excitement overcomes Pamplona's narrow alleys all the way to the bullring.
The only problem?
The crowds.
If you really want to feel the intensity of the chase, watch the intricate manoeuvres of the runner and hear the crowds cheer for their heroes, you only have 3 options.
One: STREET VIEW. Make sure you arrive hours before the run to secure a vantage point. Remember not to wait in the barricade that is closer to the run, you should wait on the second barricade. The first one is for the doctors, nurses, police…
Two: BULLRING.  Since 2017, you can book your seat from the official bullring website.  You will have to wait until April or May, when they open sales. It is quite easy to book. http://feriadeltoro.com
Three: BALCONY VIEW. Rent one of our balconies and watch the magic of it all from a controlled and safe environment while sharing a once-in-a-life-time experience with expert local guides.
Which one will it be?
A perfect view, running commentary and a nice breakfast?
Smart!
Book your balcony rental from Pamplona Fiesta now!
Alpargata Dance.

The Espadrille Dance or El Baile de la Alpargata, a clear example of how accidental traditions are created!   Why?
Let us tell you a story!
Back in the days, all the young men who had just finished racing in front of the bulls gathered with family and friends at the majestic Nuevo Casino private club, in Plaza del Castillo, to enjoy some deserved hot chocolate with churros.
After a while this private society decided to liven up these already lively gatherings by providing musical entertainment for its guests.
Inevitably, the music led to dancing.
All those young lads in their white and red running gear and espadrilles flouted the strict dressing codes of the most exclusive venues in Pamplona and created one of the most enjoyable San Fermin traditions.
Unfortunately, this venue is only with invitation. Talk to us about it, we can get you in.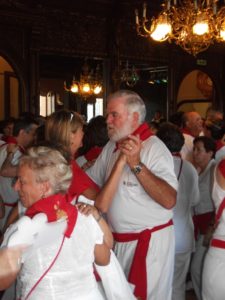 Churros in Mañueta and Chocolate at Iruña
The "churros" at "Churrería de la Mañueta" are beyond perfect
No, you won't be able to avoid the queues but believe me when I say, it'll be worth the wait!
Because the iconic Churros stand located at Mañueta St. – right behind Death's Man Corner  – only opens once a year to offer customers what's been labelled as the best churros in Spain.
To top it all off, head down to Plaza Castillo, try to locate a café or stand where to buy hot chocolate and sit in any of the terraces to enjoy this delicacy and the show that is the city of Pamplona during San Fermin.
I personally love Café Iruña, Ernest Hemingway's favourite café in the city.
You'll find it easily, it's the big bar with a white awning right in Plaza Del Castillo.
Sit down, relax and take it all in!
Giants and Big Heads
Time to get going again!
And now you'll be searching for Giants and Big Heads all around Pamplona's Old Town!
This delightful parade wanders around the city's old streets every single day at 9.30 am (except on the 6th July when it starts a 4.30 pm).
And yes, literally you must look for them because they follow a different itinerary each day!
If you want to see the locals send the giants and big heads off on the 14th, head down to the city hall and be part of a wonderfully enchanting ritual known as "Despedida de los Gigantes".
You can read all about this tradition in this article.
Tapas
At this point your energy levels will be going in a downward spiral!
You've been up since 6 am watching parades, bulls run, giants and bigheads and the lot!
It's time to recoup your strength!
And you can do so at any of the many tapas or pinchos bars everywhere in Pamplona.
If you don't want to waste time looking for reviews and recommendations, head straight to the following four favourite local spots:
Bar Gaucho: Calle Espoz y Mina, 7
Bar Fitero: Calle Estafeta, 58
Bodegón Sarrías: Calle Estafeta, 50
Zanpa: Calle Estafeta, 48
And if you are up for it already, how about one of the many varieties of the regional Riojas? But pace yourself, there's plenty more drinking to come!
Learn about Pamplona
So, you have been in town, but what do you know about Pamplona? Did you know that the Roman general Pompei was the one who founded the city 75 years before Christ? Did you know that it was the Capital of the Kingdom of Navarre?
If you want to learn all about this and much more, book a city tour with us. Every day we have a city tour.
Lunch (¡+siesta!)


And finally, lunch!
Yes, it's 2:30 – 3 pm, probably closer to dinner time for you!
But this is lunch time in Pamplona!
Time to unwind, enjoy the company of family and friends and try our local gastronomy.
And if you can sneak in a little siesta time afterwards, even better!
What restaurants would Pamplona Fiesta recommend?
It's too hard for us to make a selection!
We truly believe Pamplona is a foodie's paradise!
However, this article will give you some insights into differently priced options, all equally wonderful!
But before you leave the restaurant, make sure you ask your waiter for a "bocadillo para llevar a la corrida"! (sandwich for the bull fight)
You are going to the bullring and wouldn't want to feel hungry while enjoying the show!
Learn how to Run Tour
If you are not into SIESTA, why don´t you join in and learn how to run with the bulls?
Has this electrifying atmosphere inspired you to run before the bulls?
Be careful, my friend!
Because no matter how fit or how good a runner you might be, having to navigate your way through a stampede of raging bulls averaging 1300 pounds through crowded and very narrow cobblestoned alleys, is no easy feat!
So, how about spending these few hours learning the actual technique on how to run with the bulls?
Does that sound like a good idea?
We certainly think so!
So, join our seasoned instructors and find out how to minimise risks and maximise the fun!
Familiarise yourself with the ins and outs of each corner along the route,
Identify how, when and where you should position yourself according to your physical abilities and fitness level,
How to prepare yourself before, during and after the run,
And how to run to make sure that all the "personal photographers" that are documenting your run have the best possible chance to take memorable pictures of you from any vantage point.
You can book your Learn How to Run From Local Experts Tour here.
Bullring
Every evening at 18:30 pm between July 6 and 14, the bulls that have been driven to the bullring by the runners that morning participate in a bullfighting event.
It all starts with Parade of Mules (Mulillas) or Mounted Bullfighters, a colourful procession of horsemen, mules and a brass band.  Be at City Hall square at 17:00
The mounted bullfighters lead the procession all dressed in black like 17th Century constables used to, followed by a barren of mules adorned with coloured ribbons and bells and the municipal brass band La Pamplonesa.
After they ceremonially enter the ring, one can literally and officially say that the party begins!
Local bands play traditional music, people bring their own "merienda" (an afternoon snack of sorts) accompanied by a bottle of their favourite alcoholic beverage and have a good chat while watching the show…
Yes, it's a rather unconventional bullfighting event!
So much so that many of the more purist bullfighters refuse to come to Pamplona arguing that "we don't observe tradition".
We probably don't but we certainly have a great time!
And so will you if you plan ahead and get tickets well in advance!
These days you can buy  cheap tickets online, just  go  the official bullring site  You will have to wait until the end of May in orther to book them but you will get the official price. Obviously these tickets are not the best ones in town, but you will get to see the fight for a reasonable price.
If you are really interested in bullfighting, and you want some of the best seats in town, we are very fortunate to have been allocated some of the best seats in the house!
If you don't want to miss the opportunity to watch this unique art and be part of this incomparable festival, read this post, or , talk to us and ask us about our VIP Tickets!
Salida de las peñas
And by "Peñas" (penyas) we mean the many groups of life-long friends who roam around the streets of the city, signing, dancing and encouraging everyone to have fun!
You'll know who belongs to whom by the differently patterned blouses and foulards identifying each group.
All you need to do is follow these rascals and let your hair down (once again!).
You should come near the Bull Ring at 20:30.
Dinner


Yes, a lot of what we do revolves around food.
When the food is as fresh and delicious as the food we are lucky to have in Pamplona, what else can you do?
And while by this point you might feel you can't bear to look at any more food – let alone ingest it! – it's a good idea to feed yourself to prevent all that alcohol from hitting too hard!
Fireworks
No, you are not done, my friend!
You wanted the best 24 hours in Pamplona and there's still a lot more to go!
It's 11 pm and you need to head down to the Bus station gardens, right smack in the middle of Pamplona.
Every night at 23:00 we have an international firework contest. It is really magical. You will see all the families, heading to the gardens. The police will stop traffic so people can enjoy better. The fireworks are really remarkable.
Party the night away!
Because that's what Pamplona is all about!
Sharing the spirit of fun with visitors from around the world for an entire week!
So, to top it all off, start with the concerts that city hall puts out for all of us at Plaza del Castillo, Plaza de los Fueros or Antoniutti…
And from there on…
Well, just go with the flow, my friend!
Repeat!
Because, who wants to limit this endless supply of fun activities to just 24 hours!?
So, go ahead, stay with us a little longer!
You know you want to!
Can't wait to share a lot more than just 24 hours with you!